Online Viewing Party – Thursday June 25, 7:00 p.m.
Join us for a Counterpoint Viewing Party! We'll show footage of recent performances and videos that put inspiring images to some of our favorite songs. Counterpoint singers will reminisce about our past, talk about the future, and answer your questions. This is also a fundraiser for the 
Vermont Foodbank
, the state's largest hunger relief organization. The social and economic impact of the Covid-19 pandemic have severely affected the ability of many Vermont families and individuals to provide for themselves. Click on the bird to help feed the vulnerable in our state!
---
Dear Listeners:
The COVID-19 pandemic has dealt a devastating blow to choral music across the world. We don't know when it will be safe to rehearse, perform, and bring audiences together for the art form that we love. Rest assured that when we can, we will return with extraordinary music to share with you. While we are silenced, please peruse the programs below that we are planning. We hope to see you at many of these concerts. And please check out our listening and video pages, as well as our FaceBook page for updates.
---
Tintinnabulations
Postponed from March 2020, in these concerts, Counterpoint joins with pianists Samantha Angstman and Alison Cerutti and percussionists Nicola Cannizzaro and Thomas Toner for a program featuring Eric Ewazen's stirring setting of Edgar Allen Poe's poem The Bells, Leonard Bernstein's thrilling Missa Brevis, and Igor Stravinsky's Symphony of Psalms, one of the greatest choral works of the twentieth century.
Supported by a grant from:
---
Pro Sanctis Feminis
Works by Sulpitia Cesis, Kathy Wonson Eddy, Jennifer Fowler, Tomas Luis de Victoria, Benjamin Britten, and Leonard Bernstein, all honoring female saints and religious women.
---
Christmas Concerts with the Vermont Symphony Orchestra Brass Quintet (December, 2020)
An annual tradition. We visit beautiful churches in idyllic towns throughout Vermont and spread holiday cheer. In addition to a selection of classic carols, this year we will feature Christmas music by women and composers of color, including Alice Parker, Amy Beach, Elizabeth Poston, William Levi Dawson, Joseph Augustin, Babatunde Olatunji, and Vermont's own David Horn. Also works by Ward Swingle and Vermont composer Nathan Stumpff. Information at the Vermont Symphony Orchestra website, www.vso.org.
---
The Woods and the Waters
A program celebrating the landscapes of New England and places much more remote. This extraordinary program includes the Prelude to the operetta Paul Bunyan, by Benjamin Britten, a cantata by American romantic (and New Hampshire native) Amy Beach, and a setting Joan Szymko of a Hopi text, along with the premiere of a new work by VT/NH composer Travis Ramsey setting lines by Vermont poet Jim Schley and the premiere of a setting of passages from Hermann Hesse's novel Siddhartha by San Francisco composer Jude Navari.
Supported by a grant from Choral Arts New England.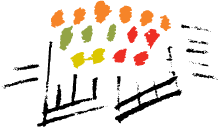 ---
Robert De Cormier Centennial Celebration – coming in 2022!