Sun July 10, time TBA – joint concert with the Green Mountain Chorus – venue TBA, South Hero VT
Thurs July 14, 2022, 7:00pm – open rehearsal – Unitarian Church, Montpelier VT
Fri July 15, 2022, 7:30pm – First Congregational Church, Lebanon NH
Sat July 16, 2022, 2:00pm – The Bennington Museum, Bennington VT
Sun July 17, 2022, 4:00pm – Sundays on the Hill, The Church on the Hill, Weston VT
Mon July 18, 2022, 7:30pm – Caspian Monday Music, Caledonia Grange, East Hardwick VT
A program celebrating the landscapes of New England and places much more remote, with pianist Alison Cerutti. This extraordinary program includes the Prelude to the operetta Paul Bunyan, by Benjamin Britten, a cantata by American romantic (and New Hampshire native) Amy Beach, and a setting Joan Szymko of a Hopi text, along with the premiere of a new work by VT/NH composer Travis Ramsey setting lines by Vermont poet Jim Schley and the premiere of a moving musical setting of passages from Hermann Hesse's novel Siddhartha by San Francisco composer Jude J. Navari.
Friday in Lebanon: $20 adults, $15 seniors, $5 students and limited means. See links above for prices of other dates.
Supported by a grant from Choral Arts New England.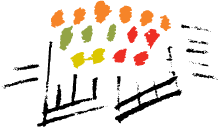 ---
POSTPONED. Check back for the rescheduled date.
Celebrate the centennial of Robert De Cormier's birth with eight of Vermont's finest choirs.
Admission is free but you must reserve a ticket at this website: https://www.eventbrite.com/e/224280648457
---
Christmas with Counterpoint and the Vermont Symphony Orchestra Brass Quintet
Wednesday, December 14, 2022, 7:30pm, Town Hall Theater, Woodstock
Thursday, December 15, 2022, 7:30pm, Warren United Church
Friday, December 15, 2022, 7:30pm, United Church of Newport
Saturday, December 16, 2022, 5:00pm, Grafton Community Church
Sunday, December 17, 2022, 4:00 pm, First Congregational Church, Manchester (VT)
The essential holiday ticket in Vermont. Ticket information at vso.org.